Fieldguide to Machine Wilderness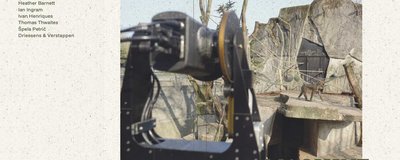 Full text
Machine Wilderness is a collaborative research project organized by Theun Karelse of FoAM, a cultural laboratory re-imagining possible futures in the interstices of art, science, nature and everyday life and Alice Smits, initiator and artistic director of Zone2Source, an exhibition platform in three pavilions in the Amstelpark in Amsterdam that presents art projects, discussions and workshops focusing on developing new relations between art, nature and technology.
This publication collects experiments, materials, themes, questions and observations that resulted from the Machine Wilderness artist-in-residency program held in 2022 in ARTIS Royal Zoo in Amsterdam, where 7 artists each worked on an in-situ experiment for a few weeks.
We became interested in ARTIS Royal Zoo as the location for the first Machine Wilderness symposium, with which we launched a multiple year program consisting of artist led work- shops and expeditions in various landscapes, when listening to a lecture by then ARTIS professor Erik de Jong. He narrated the history of ARTIS that did not start as just a zoo, but as a place where nature, art and science merged, following the adagium Natura Artis Magistra with which it opened in 1838. Thinking through this history, De Jong went on to envision a future of ARTIS as a place to reflect on the state of nature, art and science in the 21st century. Within this narrative we felt that ARTIS offered an interesting context to launch Machine Wilderness.
Following this, we developed the idea to invite artists for res- idencies in the zoo, to explore the complex relations between humans, animals, plants and technologies. We explored many ideas and different versions of the Machine Wilderness program originally planned for March 2020 as the pandemic hit the world. Finally Machine Wilderness at ARTIS opened on 11th of March 2022 in the planetarium and ended with a grand finale on 24th of June in the then just opened Groote Museum.
Maria Verstappen, Erwin Driessens, Špela Petrič, Ian Ingram, Antti Tenetz, Heather Barnett , Thomas Thwaites, and Ivan Henriques each spent several weeks in the ZOOdio working together with scientists from Micropia, animal caretakers, botanists, biologists, and many of the other staff of ARTIS. The program focus was not on final outcomes but on artistic research processes that were shared in various stages through workshops, in presentations with the ARTIS audiences and finally in this publication.