FLOAT - Feral MBA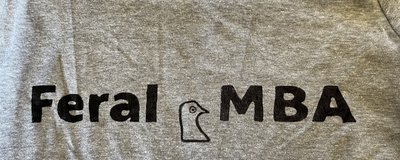 Following a successful first run of the Feral MBA at FLOAT in 2023, we are excited to announce the
FLOAT – Feral MBA - 2024. CALL FOR APPLICATIONS
BUNG YARNDA / LAKE TYERS and ICEWORKS STUDIO LAKES ENTRANCE, EAST GIPPSLAND, VICTORIA, AUSTRALIA. STARTS: 17+18 FEBRUARY, ENDS: 22+23+24 March, 2024. WE WORK TOGETHER + APART IN THE WEEKS BETWEEN. PARTICIPATION FEE $775.
The Feral MBA is a radically re-imagined training course in business for artists and others. It responds to the towering failure of business-as-usual to maintain a liveable planet. The focus of this uncommon business gathering is not on 'making it' in an extractive economy whose core assumptions of competition, productivity and endless growth are unarguably bankrupt. Instead, the aim is to provision ourselves with experimental skills and vital camaraderie to test out other ways of doing and being in business.
This 2024 gathering of the Feral MBA will be hosted by FLOAT, Bung Yarnda / Lake Tyers, East Gippsland, VIctoria, Australia.
Over the 5-week run of the programme, we will examine our own projects and livelihood practices in relation to business and economy. The curriculum will take the form of seminars, hands-on workshops, homework assignments and public events. Drawing on resources from art to feminist economics, we will consider a radical understanding of economy as 'surviving well together'. Activities may include monetary experiments, (feral) business coaching, and rethinking the 'dull' space of management and administration as also a place for wild imaginaries and meaningful work. We will further and primarily open up own business ideas and livelihood endeavours to close listening and collective investigation – to think together as a group on the quandaries of survival and livelihood, and how things could be different.
Practicalities
To attend the FLOAT – Feral MBA you must be willing and able to be in East Gippsland for the opening and closing weekend intensives – 17+18 Feb and 22+23+24 March. Our physical base will be ICEWORKS STUDIO – 5 Carpenter St, Lakes Entrance 3909 (home of FLOAT's Artist Run Initiative + Sunday Market on the FRONT lawn). And @ the FLOAT Vessel, Fisherman's Landing, Bung Yarnda. And FLOAT curator Josephine Jakobi's Bungalook Studio.
The interim weeks of the Feral MBA will be conducted remotely (with additional options to meet up for those in the Lakes Entrance/Lake Tyers area). A good internet connection will be helpful, but you can also join activities by phone. Time commitment will be 4 hours per week, largely organised around your own scheduling needs.
Participant call:
We invite applications from: artists, activists, artist-run and community initiatives, small business owners, regenerative tourism operators, freelancers, farmers, creative administrators and any others working with or curious about radical and experimental business methods. Individuals and small delegations are welcome to apply. To attend the course you are expected to 'Bring your own Business'. This can be in any form, from an established endeavour to a business idea or dream.
How to apply:
Please send a maximum of one A4 page, summarising your own business/practice and your interest in the Feral MBA, template here. Email your application to: fMBA@feraltrade.org by 30 November 2023 (midnight). Successful applicants will be notified by December 10. Participants are asked to commit to the full run of activities (the two weekend intensives and 4 hours per week in the interim weeks) in order to secure a place. Any questions about the programme – or the application process – please contact us at the same email address.
What it will cost:
Questions of funding and livelihood are at the heart of the Feral MBA project. The FLOAT – Feral MBA will operate on a mixed economy of revenue, resources and relationships. The participation fee is $775 - although there will be some low-priced places for those who may need to invest less, while those with access to institutional or workplace funding (such as professional development funds) will be asked to consider contributing more (see the FAQ below). Your fee will include all the group events and programme materials, 1:1 feral business coaching with Kate Rich, and meals and refreshments at the weekend events. You will need to cover your own travel and accommodation for the two weekend intensives. We can help with local accommodation options: contact float.ltb@gmail.com.
Artist statement:
The Feral MBA is an endeavour by artist, trader and feral economist Kate Rich.
For more information on the Feral MBA see here.
Host statement:
FLOAT has a long track record in regional arts and a dedication to our School of Untourism, the Observatorium and FLOAT AIR (a far east arts residency network).
Report:
Read a reflection from the inaugural 2023 FLOAT - Feral MBA - here!
FAQ
FERAL MBA – RUNS OVER 5 WEEKS. FEB 17 TO MARCH 24, 2024.
BOOKENDED BY AN OPENING & CLOSING WEEKEND INTENSIVE 17+18 Feb and 22+23+24 March. IN LAKES ENTRANCE/LAKE TYERS (3909).
REMOTE PARTICIPATION FOR THE INTERIM WEEKS, PARTICIPANTS WILL NEED TO COMMIT 4 HOURS PER WEEK, THESE TIMES WILL BE FLEXIBLE TO FIT WITH YOUR OWN SCHEDULE.
MAX. 20 PARTICIPANTS.
INDIVIDUALS AND THOSE REPRESENTING AN ORGANISATION ARE WELCOME TO APPLY.
ALL SHOULD HAVE AN ACTUAL OR NOTIONAL BUSINESS IDEA - SEE OUR DEFINITION OF *BUSINESS BELOW
PARTICIPANT FEE: $775
A LIMITED NUMBER OF SPONSORED PLACES OPEN TO LOW-INCOME APPLICANTS
ORGANISATIONS AND THOSE WITH ACCESS TO PROFESSIONAL DEVELOPMENT FUNDING PAY MORE (PRICE TO BE NEGOTIATED AS PART OF THE APPLICATION PROCESS)
BUSINESS SPONSORS WELCOME – CONTACT US TO FIND OUT MORE - fMBA@feraltrade.org
APPLICATION DEADLINE: NOVEMBER 30th 2023, TEMPLATE HERE, MAIL TO fMBA@feraltrade.org.
* THE FERAL MBA IS WORKING WITH A TRANSFORMATIVE DEFINITION OF 'BUSINESS' AS 'ANY PRODUCTIVE ACTIVITY THAT COULD BRING US SUSTENANCE'
Location
Lake Tyers, Victoria, Australia